---
IS THIS YOU?
 "I can't go on vacation now.  I need to watch my employees." 
               "We train them and show them everything, but they don't remember."
                                 "Doesn't anyone else care around here? 
                                                 "Do I have to do everything?"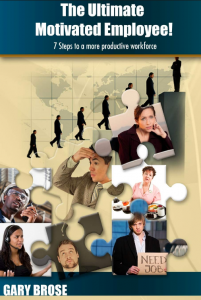 ---
Do you sometimes wish you had a magic button to push and suddenly all your employees would be inspired, engaged, motivated and anxious to do all the right things? Guess what. There is no magic button but there are well-proven techniques that can turn your employees into an energetic, engaged and productive workforce.  And when you combine a few of these techniques, you will be astonished at the results.
For more than 30 years, Gary Brose has been testing and practicing techniques in the real world with real flesh and blood people. He has identified the 7 key steps you can take to create a more productive and satisfied workforce and here is the good news … YOU don't have to be a genius to use those same techniques.  Any people manager on any level can employ methods that get the results needed.  In "The Ultimate Motivated Employee!" you will learn:
How to avoid the deadly training mistake nearly every manager makes
How to create an office atmosphere that makes people want to be more productive
How to build your team with high-quality new hires
How to build 'Pay for Performance' programs that return value continually
Why 'de-linking' is the smartest step toward better reviews
What business tactics Napoleon, Khrushchev, and Yogi Berra all agreed on
Imagine having a crew of motivated, inspired, engaged and dedicated workers who are all on the same page as you! Imagine having a workforce that cares as much as you do about the business and its customers. When you have that, your ability to grow your business expands exponentially (and you can take some time off too without worrying that your company will fall apart without you)!
To purchase a copy of the "The Ultimate Motivated Employee!" click here or if you would like me to call you for a free consultation about motivating your employees, send me an email (to gary@smallbizsherpa.com).  I'll call you back, chat with you and offer you a special discount on both of my current books.

If you would like to buy multiple copies and get a substantial discount, send an email to orders@smallbizsherpa.com and I will call you back to make arrangements.