The business battle of the 21st century won't be how to increase market share
—it'll be how to outrun the pace of change.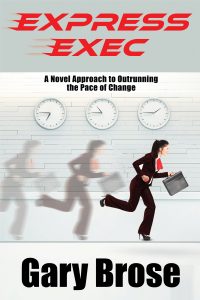 How do you create major change in your company? The answer is both simple and complex. The simple answer is you do not do it alone – you do it with all the employees helping you. But, as we know, no one likes change so the complex answer is about how you can make that happen. For centuries, people have learned lessons from stories and this is one lesson that is easier to learn when you immerse yourself in the process of building trust and motivating your workforce to join you in making change happen quickly.
Express Exec is a short novel about business in the fast lane. In this book, the VP of Manufacturing at Juggernaut Industries must make rapid and radical change to her department in order to help turn the company around in six months. The reader gets to go along for the ride and experience 'first-hand' the ups and downs, the failures and victories, and the fears and joys of both the employees and management. Unlike anything you've ever read, Express Exec will teach you about the path you'll have to take in order to keep up with the pace of change.
"Gary nailed it! Keeping pace with change requires buy-in from the employees. Gary's Express Exec takes you right inside the meetings and conversations so that you feel the same emotions – and all the fear and angst that the employees and managers feel. A fun read that really teaches you how to move at a fast pace."
Kevin Kruse, New York Times Bestselling author, Founder+CEO of LEADx
Available on Amazon on July 5th, 2018 at ExpressExec